How do I hide columns in my documents?
You can hide columns you do not use globally or on a per-document basis.
To hide columns globally, click Settings> Sellsy Add-on > Sales Management > Document settings.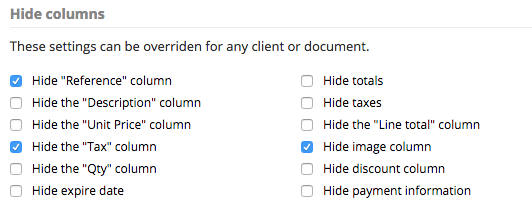 In the next window, you can select the columns you wish to hide in your documents:
Once done, save your changes at the bottom of the page.
If you want to hide columns only in some cases (e.g., export sales), you can choose this for each document.
To do this, in the composing window of your document click Display settings.

In the open pane, select the columns you want to hide or see.