How do I link an expense to a sales invoice?
To calculate the margin of a sales invoice from a supplier invoice, you must link it to the sales invoice.
You can create this connection from the invoice overview. Click the Link expense button on year expense overview:

If you wish, you can do the same from the expense. To do this click the link sales record button was expense overview:

In the next window, enter the number of the document you want to link.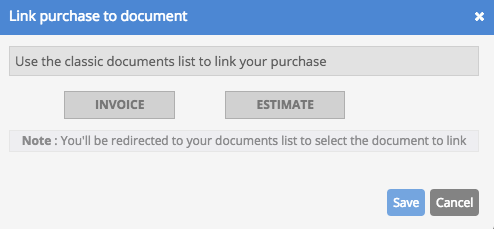 Note that you can link a portion of the invoice amount, for example, if a supplier has grouped multiple purchase records with a single invoice.
Tip: For simplicity, you can enter the last digits of your document. For example, for the invoice EXP-20120717-00004, simply enter 004.
Once the documents are linked, the margin values are updated:

Of course, you can link multiple purchase invoices to a sales invoice.
At any time, you can access retail shopping by clicking on the icon for margin details on the right margin: