How to use price categories?
Price categories allow you to define several selling prices for your products for different customer types. You can also specify other info like accounting codes, sales tax, and/or document layout.
For example, you can manage a specific price for individuals, another for companies, and another for export.
Each price category can use ATI (all taxes included) or ET (excluding taxes) prices, a fixed sales tax, an accounting code, and a layout depending on the client type.
By default, your account has two categories - one ATI and one ET.
To add a price category, click Settings > Catalog > Pricing & tax.

The next page displays the existing categories. To add a price category, click the Add button.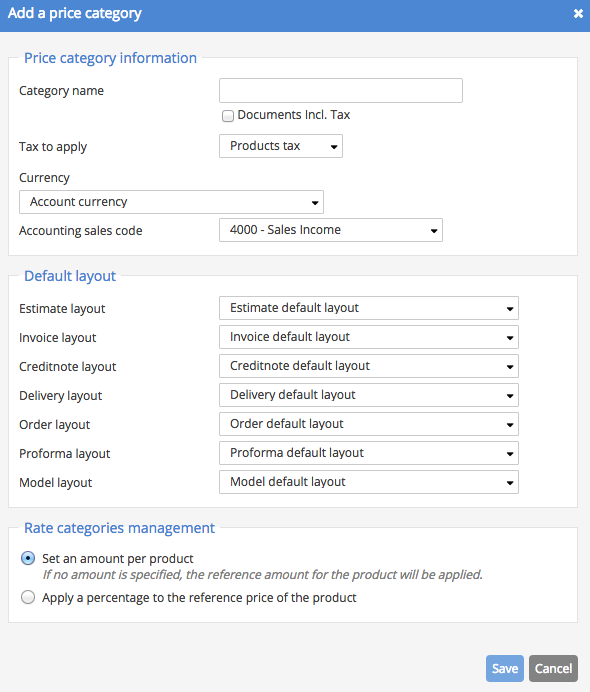 Identify and select the pricing type of your category and click Save.
Please note that if you choose to apply a percentage, the discounted price will automatically be created in your catalog for every products and/or services.
Your price category becomes available in your product pages where you can update prices.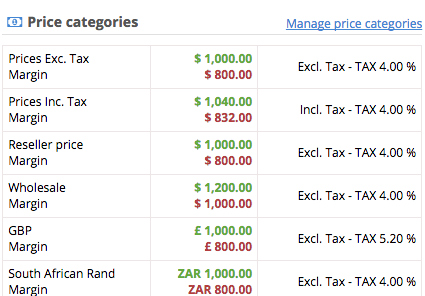 You can then assign a price category for each customer from the customer record by simply clicking on Edit