Comments
Sellsy is a powerful discussion system that allows you to easily share notes and comments with your colleagues.
This system is very similar to other online discussion systems. It makes it easy to create conversations within your team.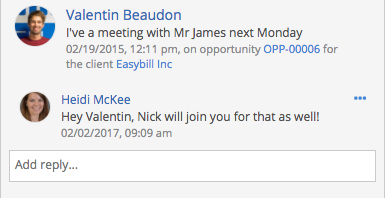 These comments can be viewed from many different places throughout Sellsy:
on the dashboard

on contact records (customers, prospects, suppliers)

on business documents (estimates, invoices, etc.)

on product records in your catalog

on opportunities
To enter a comment, just write your text in the appropriate box and click save.
Your comments summary on the dashboard
All comments posted on Sellsy are gathered on the dashboard so that you can see a summary of all discussions by category.
When an unread comment exists, an indicator appears so you can make sure that you don't miss any news.