Adding a free payment (debit or credit)
It maybe happen that you receive a settlement for payment prior to issues a sales document. In this case, you can associate the payment to the customer (or supplier) until you create or save the invoice or credit note.
A payment can have two directions - debit or credit.
Credit is used when you receive money, while debit is used when you send money out.
To enter a payment, click on the Documents menu and then click Add payment.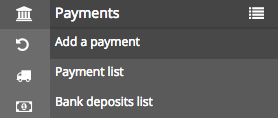 Fill in the required information and click save. The transaction appears in your list of payments, pending association with a document.
You can directly specify the bank deposit (if you group payments for deposit, use the group deposit feature [see the FAQ section on the topic]).