How do I use a cash drawer?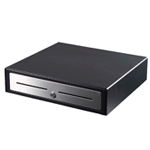 The cash register can be connected with a cash drawer. You will find this accessory in our store but you can use another model if you wish.
The cash drawer easily connects with a RJ11 cable to the receipt printer and requires no power.
The operation is automatic: the drawer opens when you save a payment.