Sellsy extension for Gmail
Sellsy extension for Gmail is an extension for the Google Chrome browser (available here for free).
To install it, simply click on this link.
In the window that appears, click the Add to Chrome button.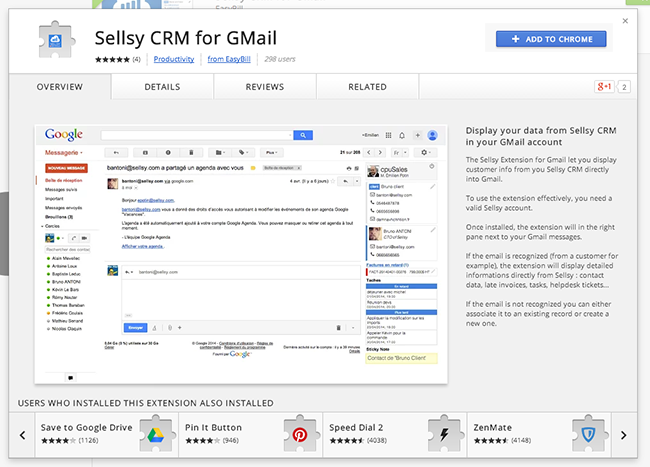 Confirm the following screen and the extension will be directly installed in your browser. No further steps are needed.
When the extension loads for the first time in Gmail, you need to connect it to your Sellsy account using your usual credentials.
Once connected, you can select the type of information displayed by click the preferences icon (gear wheel). Of course, if you do not use a certain Sellsy unit, it will not be displayed in the extension.
Access to your Google account: what data is exchanged?
The extension allows you to display Sellsy data in Gmail and enrich your Sellsy account from Gmail. No data from your account is copied to Sellsy (except the avatar from your client to enrich your Sellsy listings).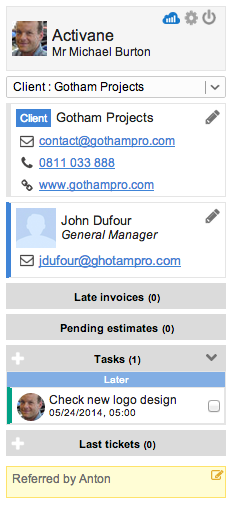 Extension principles:
The extension displays a panel on the right side of your screen when you open an email in Gmail. The contents of this panel varies depending on the context.
Option 1: The email address already exists in your Sellsy account. The extension then displays information from the client (based on the extension settings).
Option 2: The email address does not yet exist in your Sellsy account. The extension will then give you the option to either to add a contact to an existing company in your account or create a new contact from scratch.
Features
The extension allows you to:
enrich your client records easily from Gmail

display customers' late invoices

view pending estimates

view existing tasks and create tasks

view the history of support tickets

transforme the received email into a support ticket

display the information note from the customer record