Creating one (or more) expense(s)
To enter a new expense, click the Expenses menu and select Create expense.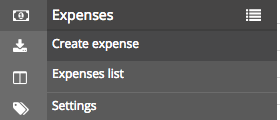 The next window allows you to quickly enter your first expense.

Choose a supplier and complete the required fields. You can enter multiple expenses by clicking Add a new expense.
When you're done, click Save at the bottom of the page.
Note: you can manually upload your receipt at this stage, but you can also do it with your smartphone's camera using our mobile apps.
Important: generic suppliers
Depending on your business, it may not be necessary to create a supplier for each expense. For example, if you have a lot of receipts from different restaurants, it will be easier to create a "restaurants" generic supplier. Afterwards, you can add the restaurant name in the description or reference fields when entering the expense.