Expense validation and reimbursement
To manage expense reimbursements, click on the alert icon and then select Mass validate.

A new window will appear, allowing you to view expense, sorted by employee.

For each expense, you can click Details to access detailed information.


At this stage, you can also check the receipts of your expenses.
If an expense is unclear or incomplete, you can remove it from the current reimbursement by clicking Remove.
Note: With our mobile apps, you can take a photo of your receipt and they will automatically be uploaded to your account.
Once you have validated, you can issue a reimbursement at the bottom of the list. Remember to enter a recognizable reimbursement reference, this will be useful in your payments list.

Once completed, a green icon will appear next to the employee and the system will move on to the next one.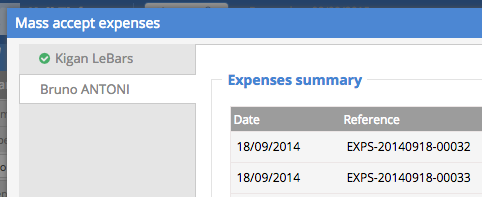 The reimbursed employee account will appear on your payment list (in the Documents menu), under the name of the staff member.