Delivery receipts
You can save your delivery receipts, an essential function if you use manage stocks.
You can save a delivery in two ways:
Through a supplier order

By directly creating the delivery
Record of a delivery from a supplier order
To preview a supplier's order, click Supplier delivery note.

The validation window for delivery will pop up. You only have to validate the amount received to the right of the table.

Your delivery is recorded and a summary will appear. At this stage, you can save a copy of the BL received by clicking on the tab Proof supplier.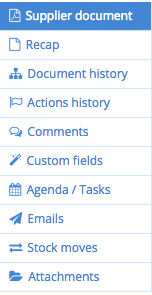 If your delivery was complete, the stock command will display Book. Otherwise, partial delivery is displayed.

At any time, you can check your documents from tabs Summary and Document history.