Ecommerce settings
If you choose the ecommerce option for your website, you need to set up different settings.
The first setting is about the shopping carts lifespan. By default, it is set to 24 hours.

This is the time after when carts are considered as abandoned by the system.
You can then choose to receive email notifications after a new order:

Then choose the price category of your website. The price category will be the one displayed by default on your website.

You can then choose to use the price category defined in the client record instead of the default category. You can then create websites with different price categories depending on your visitors.
Then choose how your store will display products with variations.

This setting allows you to display every product variations in your store, or only the parent product (the variation choice taking place during the order).
The next part details the way your customer can access your website.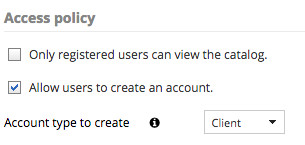 These option allow you to create a website for your resellers. In that case, only the clients with a login and a password (the same as for the Sellsy client portal) will be able to log in.
Note: Sellsy allows you to create estimates instead of a payment. In that case, you can choose to create prospect instead of clients.
The next part is about the inventory management.
These settings are detailled in the article Ecommerce inventory management.
Finally, Sellsy will ask you to choose your store's means of payments.
The means of payments can be enabled in the Store section of your account.