Sales documents consolidation
Sellsy allows you to consolidate your sales documents. This feature lets you create a single document from several documents.
Here are some examples:
Bill several estimates with one single invoice

Bill several delivery slips with one single invoice

Create an order form from different estimates

Etc.
In order to use this feature, first select the documents you wish to consolidate with the dedicated listing (estimate in our example). Simply check the right estimates with the box on the left of the row: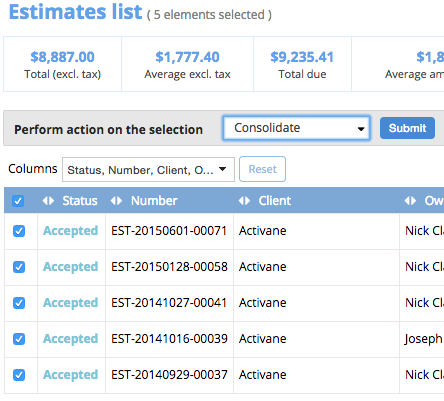 Then click on Consolidate:

An overview of the documents is displayed, you can then choose the type of document you want to create:

Note: you can choose to display or not a separation with the consolidated documents information.
Confirm and your consolidated document is now displayed: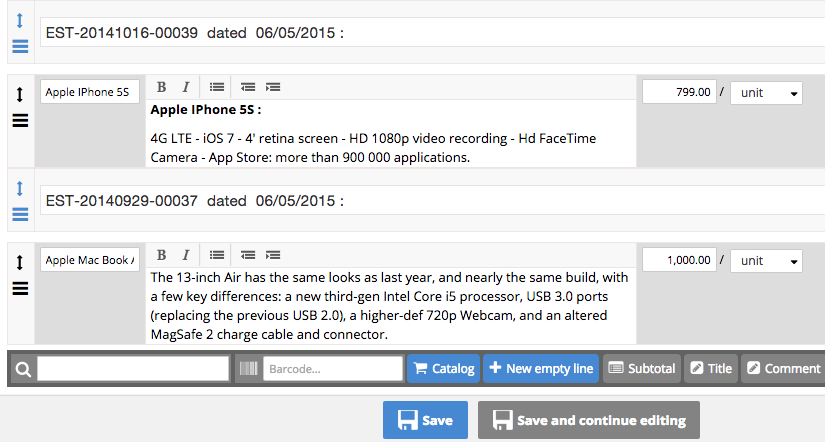 You can now save it as usual.
Important: in order to proceed, your documents must:
Have the same currency

Be assigned to the same client

Not impact the inventory

Estimates should not have a down payment invoice

Documents should use the same price category