Using shared agendas and calendar
Sellsy offers shared agendas, ideal for managing your appointments and scheduling meetings with your team.
You can access the calendar from your Dashboard, which provides a convenient list view to quickly view all upcoming events.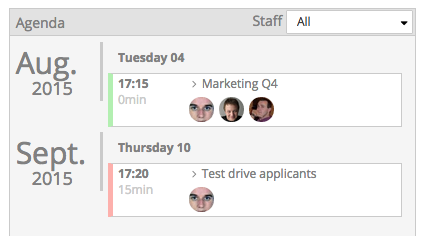 For a more detailed and complete view, you have the general agenda, accessible from the main menu:

In this context, you have a classic display with calendar view by month, week, or day: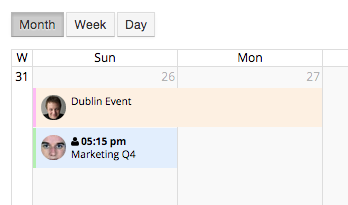 You can easily change the view the agenda and select one or more employees that you want to be displayed:

Label events linked with your clients or documents
Sellsy allows you to define tasks on any type of Sellsy object: customer, supplier, catalog, or other objects depending on the units enabled in your account.
You will find the agenda in an Agenda / Tasks tab, for example here in the customer record:

When an event is set in a particular context, it is listed on the Dashboard and the general agenda. Here customer Activane:

Use the collaborative features of the agenda
Like tasks, calendar features are collaborative: you can share events with your team members to help you plan your meetings with comments and related files: