How do I filter (search) documents?
Sellsy brings you powerful capabilities to sort and search your documents.
These features are contained in the Search panel at the top left of each list of documents: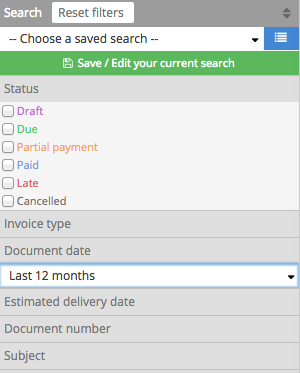 Many options are available to sort your documents:
Status
Date or range of dates
Invoice number (you can enter only part of the number)
Client
Smart tags (defined in the Smart tags box in the invoice preview)
By clients/prospects custom fields
You can easily build common queries such as the list of your late invoices, or a list of invoices paid last month.
The result of these filters can be exported directly from the link located above each list.
For each selection, totals are calculated dynamically