How do I add tasks and reminders?
Important: notice the difference between task and event
A late task will be marked Late on your dashboard. It will remain there until you have marked it as completed. Think of it as a "virtual post-it".
A task is different from a calendar event, such as an appointment or meeting, which is displayed in your Sellsy agenda.
Sellsy allows you to easily define tasks in different parts of the software:
You will find consolidated tasks on your dashboard: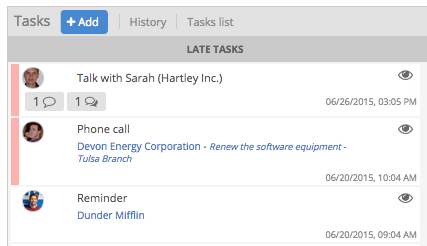 You can use the drag and drop feature to organize your tasks on the dashboard.
You can also easily filters task, for example if you want to check a staff tasks:

You will also find an Agenda and Tasks tab dedicated to each Sellsy file or document, such as estimates and client records:

Note: when a task has been created in a particular context, it is displayed on the Dashboard. In this example, we see immediately that the task has been linked to the client "Dunder Mifflin" for a renewal opportunity:

To create a task, click Add or Add task depending on the context.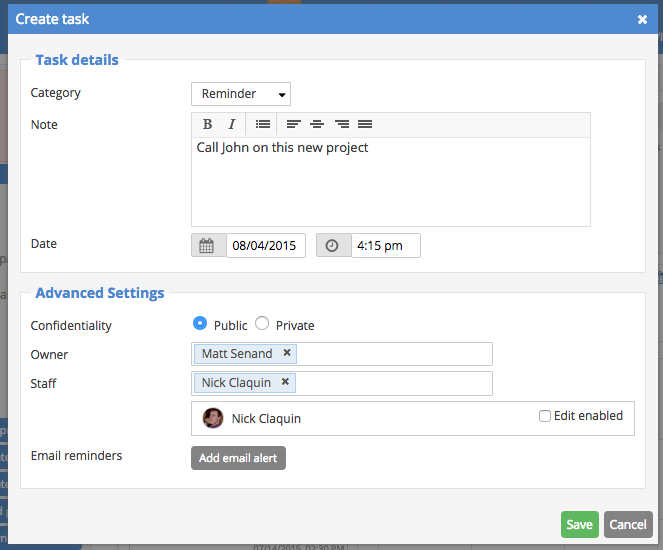 In the next window, you can choose the details for your task. Customizable labels are at your disposal to categorize your tasks.
Note: To customize your labels, go to Settings and Manage Lists, units taxes.
You can associate collaborators and set reminders by email. The alert will be sent to you by email at the time that you select.
Boost your efficiency with teamwork features
Sellsy tasks are collaborative: You can share them with colleagues and even attach files or share comments: